Safety in schools is pivotal to the health and wellbeing of staff and students. Contour recognises this; we complete LST radiator cover installation processes in line with procedures that maximise safety and minimise disruption.
Here's how Contour could fit your educational environments with LST radiator covers so that you remain in line with heating regulations and eliminate the risk of injury.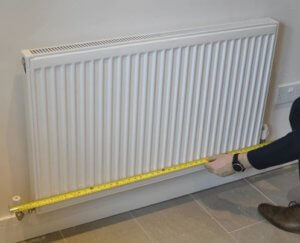 1) Free Survey
After your initial enquiry, Contour will carry out an onsite survey, free of charge. During the survey, Contour representatives will note any specification features that will require modifications to your LST radiator covers.
Modifications will be made during the manufacture of your LST radiator casings to avoid any extensive disruption when your radiator guards are installed onsite.
2) Quotation
Within 48 hours of your survey, Contour will contact you with a quotation for your LST radiator project. You won't be committed to a project until you have accepted a proposed quotation.
3) Manufacture Of LST Radiator Covers
Contour allow 10-12 working days for the manufacture of your LST radiator guards. We will contact you when they are ready for installation in your school.
4) Installation Of LST Radiator Covers
Contour aim for LST radiator cover installation processes to be as efficient as possible. Schools are busy environments where safety needs to be maximised, which is why Contour make any required modifications to your LST radiator casings during the manufacturing stage of the procedure. This way, your installation will be quick and easy.
Contour install LST radiator covers by fixing them into 3 sections of the frames so that they are permanently fixed into place for security. However, the radiator guard doors will still be easily removable for thorough cleaning and maintenance.
Installation times vary depending on a variety of factors, including sealant type, removal of previous radiators and the size of your order.
Contour will happily complete your LST radiator cover installation outside of working hours to avoid any disruption to children's learning. We'll accommodate your school's needs.
Contour also offer full removal services for your old radiators. We'll responsibly recycle these for you.
Following the installation of your LST radiator covers, Contour will apply a silicone sealant or anti-pick mastic, popular in SEN schools, to seal your radiators and casings to your classroom walls.
All of Contour's instalment teams are CSCS and DBS checked.
5) Warranty Protection
At Contour, we pride ourselves on providing the highest-quality LST radiators and radiator casings. Our premium heating product range ensures safety in schools throughout the UK.
For extra security, your LST radiators and radiator covers will be protected by 10 and 5-year warranties respectively.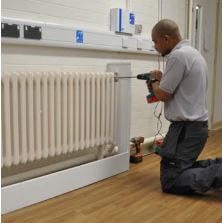 How Could Contour Help Your School?
If you're looking for LST radiators and radiator covers for your classrooms, you can speak to a heating expert about Contour's hassle-free surveying and installation processes by signing up below.
You can access our detailed 2-part guide to LST radiator cover installation here:
About Us
Contour produces a range of innovative, safe surface temperature systems for healthcare, education, mental health, commercial and secure sectors, working in close partnership and collaborating with architects, M&E engineers, NHS Trusts, local authorities, design consultants and contractors to deliver outstanding safe heating solutions.
Contour is the exclusive partner of BioCote® anti-microbial technology for LST and anti-ligature radiators. BioCote® additives reduce bacteria by up to 99.9% and are combined with Contour's extensive range of colour-paints to coat products for a durable, high-quality finish.
Contour's heating solutions offer secure, single-person quick access to radiator guard interiors for regular deep cleaning and maintenance. Each year, Contour save the NHS millions of pounds in cleaning costs, while delivering cleaner, safer environments. Contour has redefined the marketplace and is regarded by many as a design and innovation leader within the industry.
Contour's vision is supported by a quality-first philosophy and a passionate and conscientious customer focused team who possess a 'can-do' attitude, taking pride in developing solutions for your heating requirements.
Contact us at:
The Mansions, 43 Broadway Shifnal
Shropshire TF11 8BB United Kingdom
+44 1952 290 498