When potential buyers ask us about LST radiator covers, they often want to know whether radiator covers affect heat output.
This is a particularly important issue for schools, where heating regulations state that school classrooms should be at least 18⁰C, otherwise staff and students are liable to be removed from educational environments until adequate heating solutions are provided (Workplace Health, Safety and Welfare Regulations 1992).
Not to mention recent news updates warning of colder winters and the need for quality heating in schools. The Guardian predicts that temperatures will be well below freezing before the end of November. It's vital that you're well equipped for heating solutions that are both temperature adequate and safe. But how can safe surface temperature radiators provide satisfactory heating while minimising injury risks?
You might find it surprising to learn that heat output is barely affected at all by our LST radiator covers. Contour provide both quality heat output and safe-to-touch surfaces in a range designed for optimum heating in schools.
So, How Is Heat Retained?
While it makes sense that covering your radiator would restrict the flow of warm air or block circulation, the reality is a different matter.
Contour LST radiator covers have an interior coating of Kingspan foam. This reflects heat that would otherwise be lost back into the room. BestHeating concludes that around 45% of heat that would otherwise be lost can be retained with a well-insulated radiator cover.
Alternatives
While traditional radiators, electric radiant panels and underfloor heating are slow to warm up – underfloor heating taking as long as eight hours sometimes – a Contour radiator heats to temperature within ten minutes, an efficient, durable heating solution for your school.
Datasheets for Contour LST outputs are available here.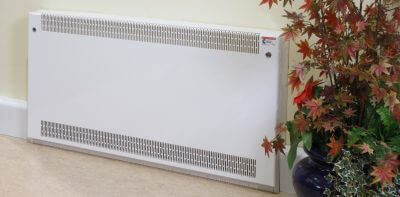 To find out about how Contour could implement heating solutions in your educational space, sign up below for a heating expert to contact you.
About Us
Contour produces a range of innovative, safe surface temperature systems for healthcare, education, mental health, commercial and secure sectors, working in close partnership and collaborating with architects, M&E engineers, NHS Trusts, local authorities, design consultants and contractors to deliver outstanding safe heating solutions.
Contour is a partner of BioCote® anti-microbial technology for LST and anti-ligature radiators. BioCote® additives reduce bacteria by up to 99.9% and are combined with Contour's extensive range of colour-paints to coat products for a durable, high-quality finish.
Contour's heating solutions offer secure, single-person quick access to radiator guard interiors for regular deep cleaning and maintenance. Each year, Contour save the NHS millions of pounds in cleaning costs, while delivering cleaner, safer environments. Contour has redefined the marketplace and is regarded by many as a design and innovation leader within the industry.
Contour's vision is supported by a quality-first philosophy and a passionate and conscientious customer focused team who possess a 'can-do' attitude, taking pride in developing solutions for your heating requirements.
Contact us at:
The Mansions, 43 Broadway Shifnal
Shropshire TF11 8BB United Kingdom
+44 1952 290 498
LinkedIn: Contour Heating Products Ltd
References