This nursey in the South of England wanted to replace ­­4 old MDF covers to allow for optimum heating whilst having 'child-proof' guards.
Instead of swapping the 4 covers like for like, Contour surveyed the new cover to enclose all 4 radiators under the same cover.
This created a sleeker design which is not only safer for the children, but safer for the staff. The reason for this is there is less risk of catching yourself on the corner of the cover.
This created a more aesthetically pleasing design and covered up the pipework in between each of the radiators. The modular design of the DeepClean cover allows for covers to run from wall to wall easily.
Due to this project being a nursery, cleaning and maintenance was significantly important, especially because the radiators were near a kitchen and in the dining room.
Taking this into account, access to cleaning and maintenance was key for Contour. Covers were wall-mounted so the cleaners could mop the floor making use of the cover flooring that was installed.
The brief was for radiators to have a more robust cover compared with what they had previously and to stop children posting items through into the covers. Overall, the nursery wanted hygienic radiator covers that were safe for children and were strong enough to last.
The Challenges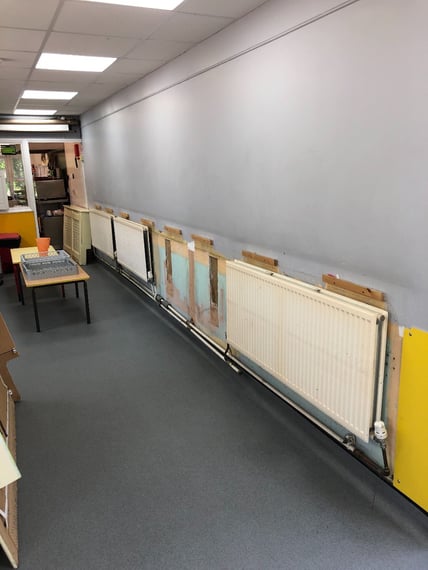 Challenges this nursery faced were that their previous radiator covers were worn out MDF covers. These covers had solid tops, so the heat was absorbed quickly. Therefore, there was an overall heat -loss and the radiators weren't generating a satisfactory level of heat.
Cleaning and maintenance were a vital factor for this nursery. Mainly since these radiators were close to a kitchen and a dining room – places where bacteria is prominent.
In a nursery, maintaining a hygienic environment is essential for preventing and controlling the spread of infection. Particularly important for children who may not understand the importance of hygiene.
Radiators guards needed to have pencil proof grilles to minimise the risk of small items - like pencils and crayons - being dropped behind radiators or into radiator covers, which can cause an issue for cleaning and heat outputs.
Large grilles not only result in heat loss, but they can pose a serious hazard risk when you consider that children can trap their fingers. This Highlighted the importance of pencil proof grilles.
This nursery didn't want to miss out on the opportunities colour psychology can have to enhance the learning experience for children. Contour understand that colour is important in nurseries because research has shown that that different shades or hues have noticeably different effects, and specific classroom colours are more encouraging for learning.
Bespoke LST Radiator Covers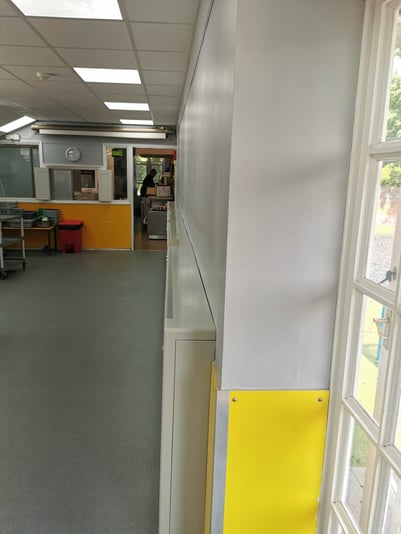 Light grey radiators were wall to wall for best heating levels. These were made bespoke to fit the walls of the nursery.
Cleaning and maintenance access were optimised with a wall-mounted design so that cleaning underneath the radiator guards was quick and simple to do. These radiator guards had a base coat so that children couldn't touch the pipework and burn their fingers.
The grilles are punched directly into the sheet material using a 5mm wide tool therefore small enough for items such as pencils and pens to pass through them. This makes the cover easier to clean because there are no proprietary grilles for dust and dirt to get stuck whilst reducing the risk of fingers being trapped.
As mentioned, colour psychology was used. This light grey colour has been found to improve attention and inspires feelings of positivity. Creating a constructive learning experience within the nursery.
RAL Chart
The grey used softened the look, the exact colour used was RAL code 7035.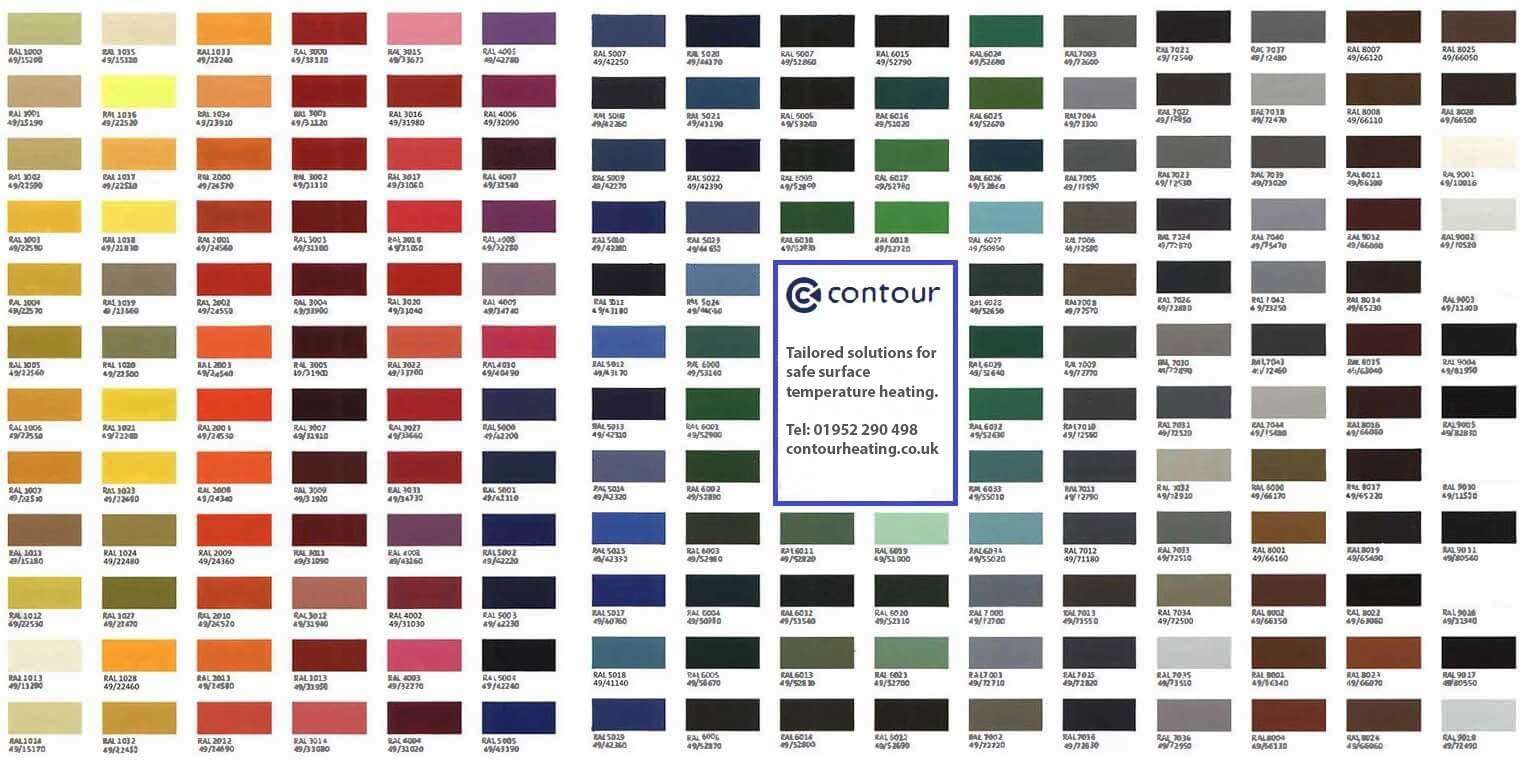 Results
The bespoke radiator covers that Contour supplied and fitted with a team of installers delivered a hygienic and safe solution for the nursery. With the radiators being wall mounted with pencil proof grilles so that items weren't trapped, and the risk of injuries was reduced. The colour psychology used for the light grey design improves children's attention and offers a modern simple design.
Contour helped transform the overall look of the room by changing the worn out and old looking covers to a new, contemporary-looking cover which fits in well with the décor of the room. The priority was health and safety for all service users, so Contour was keen to deliver a high-quality design to solve the problems that the nursery faced.