Contour has successfully supplied and installed anti-ligature radiator covers within this mental health unit in South East England. With this, they have effectively helped the mental health unit to increase safety in their wards dramatically.
This mental health unit was a low-medium secure establishment for adults aged 18-65.
The top priority for this mental health unit was to increase the safety for all service users. The previous radiator at this mental health unit posed dangerous ligature risks that jeopardised the safety levels for service users.
The project was to replace previous radiator covers that had been causing ligature risks to the service users at the mental health unit.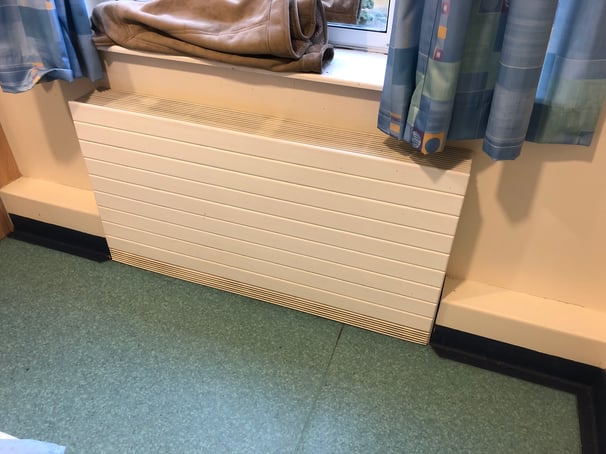 The Challenges
Prior radiator covers at this mental health units presented ligature risks. Grilles were large enough to allow someone to tie something around.
Another thing that caused danger was that some elements of the radiators were falling apart allowing them to then be used as weapons.
For safer heating, the ligature risks needed to be considered because individuals came to this mental health unit for safeguarding and security. Therefore, the environment needed to be safe and secure for all service users.
For hygiene, cleaning and maintenance are an important factor to utilise. However, this was another challenge that the mental health unit faced.
Not having easy access for cleaning for maintenance means that harmful and dust can build up inside the radiators.
Prior radiators had complicated access because it involved removing a top grille to gain entry and cutting into mastic which damaged the walls.
By removing the grille, it becomes weaker and can then be used as a weapon to harm others.
For the safety of all service users at this mental health unit, radiator guards needed easy access for cleaning and maintenance to ensure the environment was safe for all individuals.
This is especially important for individuals that spend a considerable amount of time at the mental health unit.
The previous radiators were piped up TBOE (top, bottom, opposite end) and some TRV heads were positioned at the top of the radiator covers. So, to guarantee the radiators didn't cut off too soon, remote TRV heads needed to be installed.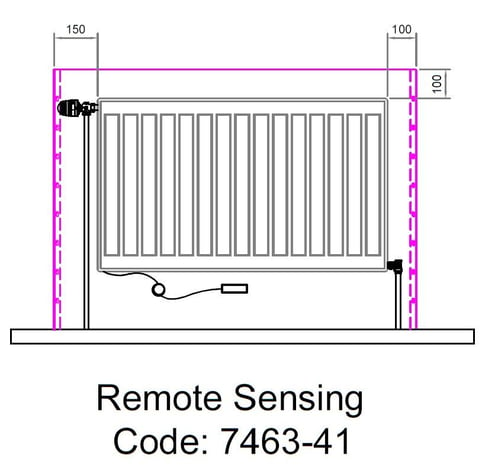 Another challenge this mental health unit faced was that radiators were placed considerably close to windowsills.
It was requested by the client that the radiator guards had a sloped top to reduce the risk of the guards being altered with.
This meant that a bespoke solution was required to fit the space available and meet the needs of the client.
Measurements, fittings, and the survey were conducted at this mental health unit in a live ward.
With this, the team had to show sympathy and understanding to the service users and sensitivity to the things they might find at the unit.
Items such as unused medication and possible items to self-harm were found inside the previous radiator covers.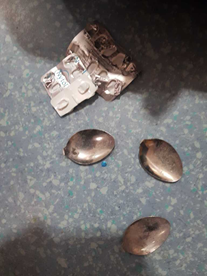 Anti-Ligature LST Radiator Covers
For safer heating, Contour introduced anti-ligature radiators into this mental health unit. With this installation, individuals could receive peace of mind that the mental health unit was secure, and users could avoid risks of harming themselves.
The anti-ligature radiators had smaller grilles which in turn can impact the guard's airflow. To prevent this, Contour exchanged the TRV heads for remote sensing heads.
Sloping tops were utilised on the radiator guards to suit all service users' needs and to fit in the small space underneath windowsills.
To carry out access for cleaning and maintenance a drop-down feature was carried out on all guards. This meant cleaning radiator covers can be done quickly and properly to diminish bacteria, dirt, and dust build-up.
With this in place, the mental health unit can carry out a hygienic environment for all service users.


Results
The mental health unit effectively achieved a bespoke, anti-ligature and an overall safer heating environment.
Remote TRV heads were put in place, access for cleaning and maintenance was optimised and all work that commenced on the live wards were carried out with empathy and sensitivity.
The main priority was the health and safety of all service users and Contour was keen on providing high-quality designs to solve the challenges that the mental health unit had.