This East Midlands hospital wanted to replace their old outdated and potentially dangerous perimeter heating covers within the hospital. They were replaced with Deepclean radiators in a modular radiator cover design.


The Challenges
The prior radiators at this hospital were outdated and worn out because dust had gathered inside the radiators and trapped inside the fins.
These dirty exchangers were hard to access for cleaning, so dust and bacteria had gathered inside.
Within healthcare environments hygiene is a top priority, this hospital needed easy access for cleaning and maintenance to the heat exchangers underneath to properly clean inside.
When it comes to hospitals, there are strict hygiene protocols and high risk of cross-contamination. Dust trapped in radiator fins can be harmful to those with respiratory infections and implications like asthma.
For some, it can even inflict lung disease. This showcases the need for easy access for cleaning and maintenance especially for hospital environments where there are vulnerable people.
Hygiene is key in hospitals, to reduce the risk of hospital-associated infections such as MRSA.
Another challenge this hospital faced was the need for small grilles for infection control and to minimise spillages and small items getting stuck in inside the radiators.
The hospital wanted the radiator covers to have a sloping top design so there are fewer risk spillages from the top, and so that the radiator covers could be wiped down easily.
Contour visited the hospital and conducted a survey. It had to be considered that the walls in the hospital were not straight, so it was essential to discuss a bespoke solution to fit the walls.
Deepclean LST Radiator Covers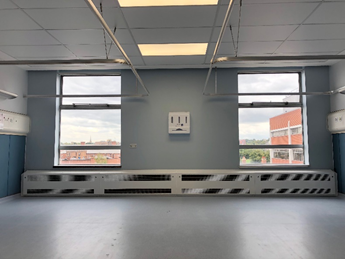 A bespoke solution was fitted in this hospital and Contour utilised the modular design that the Deepclean radiator cover offers.
Another design consideration was the grilles, they were made to be 'pencil proof' to not allow large items to pass through.
Hospitals will encounter patient's in wheelchairs and beds as well as children visiting with their parents passing through corridors. So, having a grilles design that doesn't allow small objects being pressed through and stopping fingers being caught in them was key.
The grilles were made to be on the front cover of the Deepclean LST radiator covers, this was done to reduce any accidental spillages from the top.
The grille design is small in diameter with a 5.5mm wide radius grille. The radius grille design makes it easier to clean due to it being a flat surface.
Easy For Cleaning And Maintenance
The DeepClean LST radiator guard is built using a patented, quick-release hinged door. This allows the front of the casing to be laid flat on the floor to provide easy access to clean the radiator.
These features allow for cleaning and maintenance to be optimised, something the hospital was not able to do with their previous radiators.
The DeepClean LST radiator covers were made to have a sloping top, this meant that nothing rested on top and minimises the risk of spreading infection.
As standard, most of Contour's LST Radiators come with BioCote® protection. This unique powder coating can help combat a range of dangerous bacteria such as MRSA and E.coli, reducing the risk of hospital-acquired infections.
Results
This East Midlands hospital transformed its previous heating to a safer heating solution. Access for cleaning and maintenance will enable the trust to keep infection rates down.
Grilles were pencil proof and were made to be on the front cover of the radiators to allow for a sloping top.
A sloping top was used to benefit the trust so they could carry out easy cleaning and maintenance.
This meant that the hospital maintained its infection control/standards to reduce to risk of hospital-acquired infections.
To find out how Contour can help with your healthcare project, arrange a survey or speak to one of our heating experts today.