Contour has successfully supplied and installed 68 covers, replacing old radiators that caused ligature risks. These radiators were supplied and installed in 3 wards and a psychiatric intensive care unit (PICU) in this mental health hospital.
New radiator covers meant that this mental health unit had increased the safety in their wards dramatically.
The context of this mental health unit is important to keep in mind. Due to it being a low – medium secure mental health establishment with a PICU unit, ligature issues needed to be addressed.
It was the top priority for this project to increase the safety for all Service Users by taking away the ligature risk and stash point opportunity the existing covers posed.
Replacing Old Radiator Covers
The project was to replace previous radiator covers that had been posing ligature risks to the Service Users at the mental health unit. Contour replaced old heating systems with anti-ligature LST radiator covers.
The Challenges

Ligature Risks
The grilles on the previous radiator covers were large enough to tie something around it, posing a significant ligature risk.
Those involved in the design or specification of a mental health setting should be aware that ligatures can become dangerous for Service Users, regardless of height.
It was therefore crucial that the radiators in the wards and PICU minimised any risk of self-harm, or worse.


Cleaning and Maintenance
Another challenge for this mental health unit was not having easy access for cleaning and maintenance.
As a result, dirt and bacteria build up was clear to see, posing a further health and safety risk for users, which can be amplified if sufficient access to the radiator isn't possible.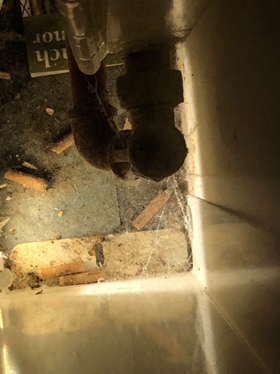 The mental health unit required the survey and installation to be all done in a live ward.
This is challenging and meant that the team had to show sensitivity to the service users and to the things that they might find.
Unused medication and potential items to self-harm were found inside the previous radiator covers. Anti-Ligature heating solutions were crucial in reducing stash points like this.
Anti-Ligature LST Radiator Covers
Contour installed anti-ligature LST radiators to provide safer heating solutions for this mental health unit and the PICU ward. This ensured peace of mind that all individuals were at less of a risk of harming themselves on visible ligatures around the radiators.
Anti-Ligature features were optimised to ensure all service users were safe from ligature risks and opportunities to use the radiators as stash points.
Easy Access For Cleaning And Maintenance

The anti-ligature DeepClean LST radiator guard was supplied and installed within this mental health unit.
The DeepClean LST is built using a patented, quick-release hinged door. This permits the front of the casing to be laid flat on the floor to provide easy access to thoroughly clean the radiator.
This was essential due to the previous radiators being dirty with dust gathered inside which could be otherwise harmful to patient health.
These easy to clean features allows for cleaning and maintenance to be optimised, something the hospital was not able to do with their previous radiators.
The LST radiator covers were made to have a sloping top, this meant that nothing rested on top and minimises the risk of spreading infection.
This was used to benefit the trust so they could carry out easy cleaning and maintenance.
As standard, most of Contour's LST Radiators come with BioCote® protection. This unique powder coating can help combat a range of dangerous bacteria such as MRSA and E.coli, reducing the risk of hospital-acquired infections.


Results
This mental health hospital with a psychiatric intensive care unit transformed its previous heating to a safer heating solution. Access for cleaning and maintenance will enable the trust to keep infection rates down. As common practice with all of our installations, the Contour team disposed previous radiators in a skip and got rid of them responsibly.
To find out how Contour can help with your healthcare project, arrange a survey or speak to one of our heating experts today.