As part of its comprehensive anti-ligature guard and radiator offer, Contour is now able to offer a DeepClean anti-ligature guard complete with anti-ligature towel rail, ideal for installation in bedrooms and bathrooms in mental health and secure custody facilities. The combination provides both comfort and convenience whilst prioritising the safety of vulnerable individuals.
Manufactured from lightweight material, the towel rail is cleverly fixed to the guard by means of load-release fittings. These ensure that the rail will detach if any abnormal vertical load over 10kg is applied per fitting.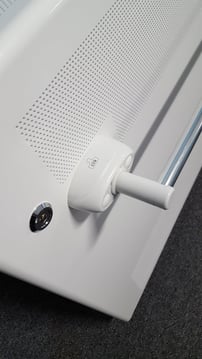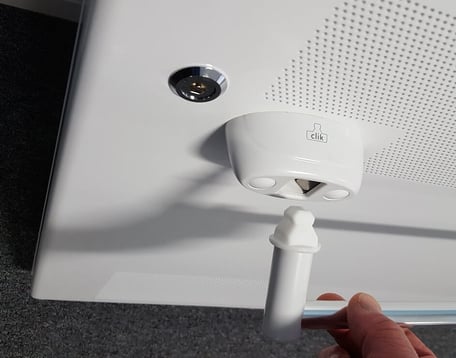 The anti-ligature towel rail guards themselves are fabricated from 2mm aluminium, ensuring long-term rust-free performance in wet or damp conditions. As standard across all DeepClean anti-ligature guards, they are equipped with Contour's IP3x test beating grille, composed of 2mm holes punched directly into the guard case. The grille design is also fully compliant with the most comprehensive guidance on anti-ligature grilles currently available in the UK; the UK Home Office's Police Buildings Design Guide (Custody, July 2009, section PD3.02.14).
DeepClean guards are finished in a tough PPC in white with BioCote® anti-microbial protection as standard. However all Contour radiator guards are available in virtually any RAL or BS colour to suit room requirements.
The guard shown is 750mm in width, however DeepClean anti-ligature radiator guards with towel rails are available in bespoke sizes to suit bedroom and bathroom facilities and in both flat top (as pictured) or slopping top model. Guard only or full radiator emitter and guard packages, are available.
For further information or to discuss a project, call us on +44 (0)1952 290498 or email sales@contourheating.com