To grow our team and continue as a leading company in the world of LST and anti-ligature Radiator covers, Contour has recruited a first-class graduate as a trainee surveyor.
A Growing Team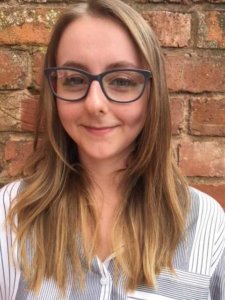 Joining the team as a Trainee Project Surveyor, Jess Davies is a University of Wolverhampton graduate with a first-class degree in Interior Architecture and Property Development. When asked about her thoughts on joining Contour, Jess said she was really excited to have such an amazing team mentoring her as she settles into the role. Jess looks forward to growing within and alongside the Contour team.
Jess' work placement year at university has provided her with a huge amount of relevant experience working with laser scanners and data processing to produce 3D-models. This invaluable experience will be fully utilisable at Contour and will help to grow the team and business.
As a Contour surveyor, Jess will be responsible for handling a range of projects of varying sizes. Her work will not be limited to just the West Midlands, as Contour work all over the United Kingdom. Jess' role will see her travelling across the country, measuring and surveying for products within both the standard range and the bespoke ranges of radiator covers that Contour offers.
When working on site, Jess will be involved in contract management for Contour, as well as closely collaborating with the Contour team to continue their mission to provide safe and hygienically sound radiator covers for their clients. As well as her passion for interior architecture and surveyance, Jess is a keen cook and dog lover.
Robin Mansell, a fellow surveyor for Contour, said:
'We're really excited to offer this place to a graduate with the potential to go a long way in the construction and manufacturing industry. We're excited to see Jess grow within the Contour team and see her learn more skills and gain more qualifications as her career progresses.'
Contour
Contour are LST and anti-ligature radiator specialists, based in Shifnal in the West Midlands. We combine our expertise in producing safe heating solutions with the philosophy of putting the customer first to produce the highest standard in safe radiator coverings suitable for all environments, including hospitals, prisons and schools.
Contour are exclusive brand partners of BioCote®, who specialise in the production of anti-microbial technology for a range of surfaces that reduce the risk of infection from a surface by 99.9%. This partnership allows Contour to produce radiator covers with the maximum levels of protection for users against microbial infection.
With our continual development of radiators and mission to provide the safest possible solutions in radiator covers to health and educational institutions, Contour leads the way as design and innovation leaders within this market. Contour provide bespoke products to their clients and offer an installation service to their customers to create a more convenient process for everybody that they work with.
To find out how Contour could help you with your heating solutions projects, sign up below to speak to an expert.
Contact us at:
The Mansions, 43 Broadway Shifnal
Shropshire TF11 8BB United Kingdom
+44 1952 290 498